Aparium properties are rapidly popping up across the U.S., but you won't find the name emblazoned on the side of its buildings. Instead, each of its nine bespoke hotels is curated specifically for its location. "We birth the identity through the process, so the name comes last," explains company cofounder Mario Tricoci. "In many ways, we're the anti-brand."
Designed by DLR Group, a masculine look defines the Surety Hotel in Des Moines, Iowa
Rather than focusing on top-tier cities, the company enters secondary markets with the goal of becoming iconic destinations. Take the Crossroads Hotel in Kansas City, Missouri, which is housed in a landmark 1911 Pabst and Pendergast building, or the Detroit Foundation Hotel that occupies the site of the city's former fire department headquarters, both designed by KTGY Simeone Deary Design Group (SDDG). "These cities have great heritage, character, and soul," Tricoci says. "There's a demand for something unique and special."
After identifying a desirable market and property, the team researches the building, neighborhood, and city, scouring the web and interviewing area experts. From that, a story begins to emerge that inspires the overall experience. Reflecting the area's Cuban, Spanish, and Italian influences, for example, Hotel Haya (by local firm Alfonso Architects) in Tampa, Florida's Ybor City neighborhood pays homage to 1950s Havana with colorful fabrics and midcentury furnishings. Billed as a gathering spot for the local community, a Cuban restaurant called Café Quiquiriqui, or, in English, "Café Cock-a-doodle-doo," leans into the concept. "Our hotels are restaurants with rooms above them," Tricoci explains. "The first floor is dedicated to the local community to eat, drink, socialize, and have spontaneous gatherings to see and be seen."
Indeed, Aparium's properties feature one-of-a-kind pieces by local artists, designers, and makers who bring instant street cred and a built-in following of people. Painted and decorated taxidermy by local artist Cassandra Smith, for instance, creates an undeniably Instagrammable moment at the ESG Architects-designed Hewing Hotel in Minneapolis. And a tattoo-inspired wallcovering influenced by local body-art creator Mikey Wheeler distinguishes the guestrooms at the Crossroads Hotel in Kansas City, Missouri, also crafted by KTGY SDDG.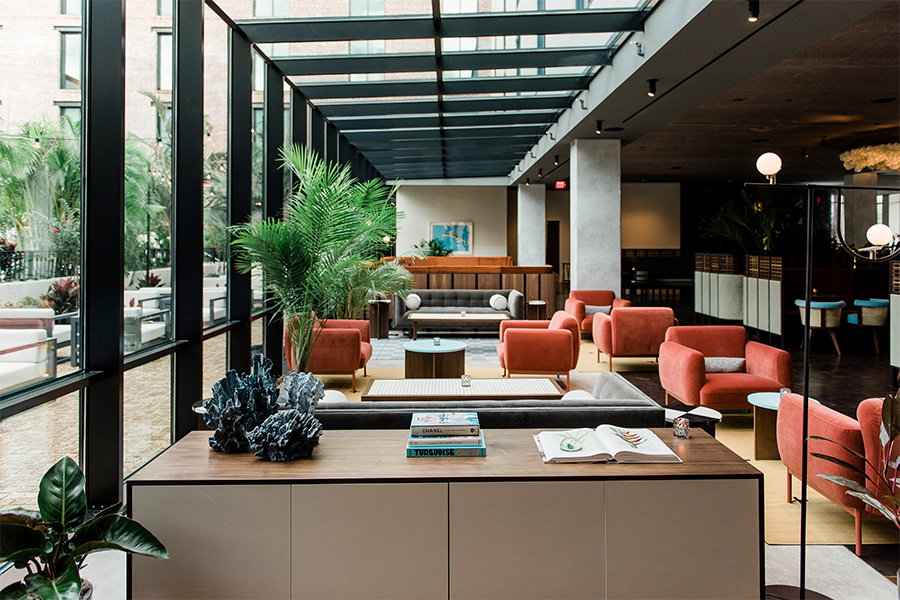 "We deliver hotels that are more layered and significant to their neighborhoods and cities than our competitors," adds Aparium partner Michael Kitchen. "We're planting our flag and saying, 'We're going to be here for a long time.'"
The company was in the process of opening six new hotels when the pandemic struck. While it temporarily closed all of its properties during the early part of last year, it continued working on the planned developments, recently debuting the Surety Hotel in Des Moines, Iowa by DLR Group, and the KTGY SDDG-designed Daxton Hotel in Birmingham, Michigan. Scheduled over the next year are hotels in Denver; Fargo, North Dakota; and Alexandria, Virginia, each with a design that reflects the city's character.
"There are a lot of places that could use not only a great hotel but also a significant cultural development that people can be proud of," Kitchen says. "[These are the types of] places you'll find Aparium in the next 10 years."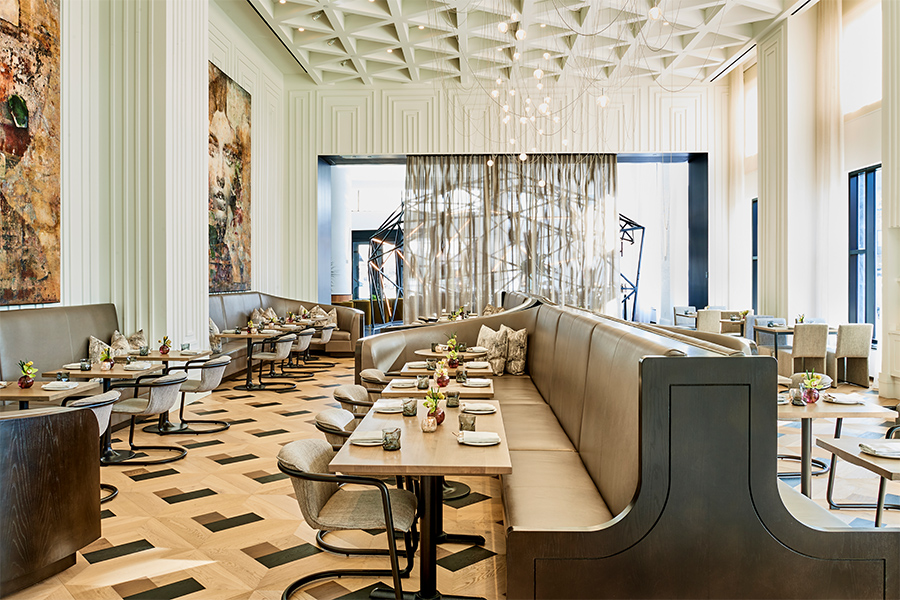 This article originally appeared in HD's May 2021 issue.
More from HD:
What I've Learned Podcast: Joe Gebbia, Airbnb
The 17th Annual HD Awards Project Finalists
The 36 Most Anticipated Hotel Openings of 2021
The post Why Aparium Hotel Group Shies Away From Predictable Branding appeared first on Hospitality Design.