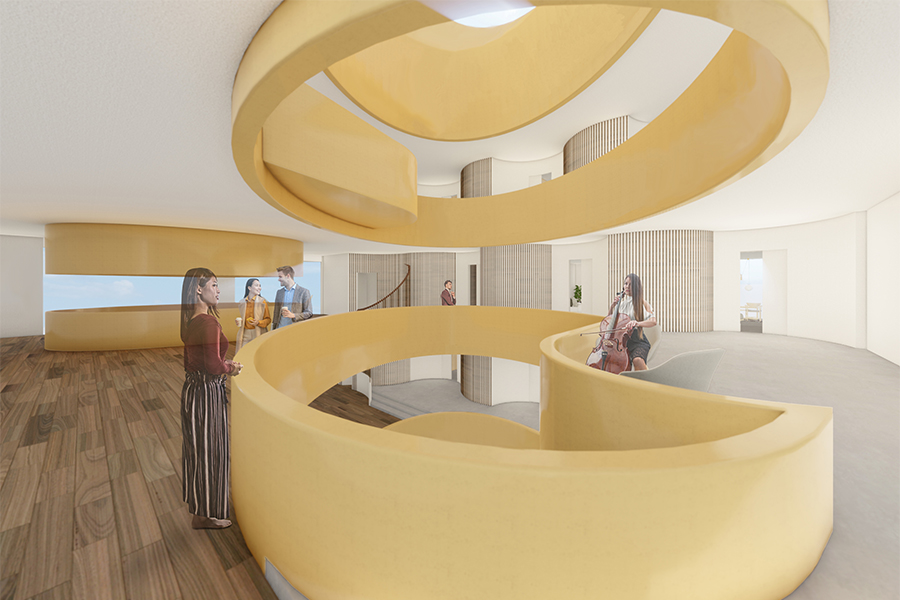 Tasked with creating an innovative response to the pandemic, students enrolled in New York's School of Visual Arts' (SVA) BFA Interior Design: Built Environments program envisioned 14-day quarantine hotel concepts, each tailored for a specific group of 20 inhabitants, so guests would "feel connected while living apart," says Carol Bentel, Bentel & Bentel partner and chair of SVA's interior design department. "Fighting health issues and creating wellbeing by behavioral change through design should be at the forefront of the discussion to tackle the problems before us."
The Orchestra House by Kayla Nestor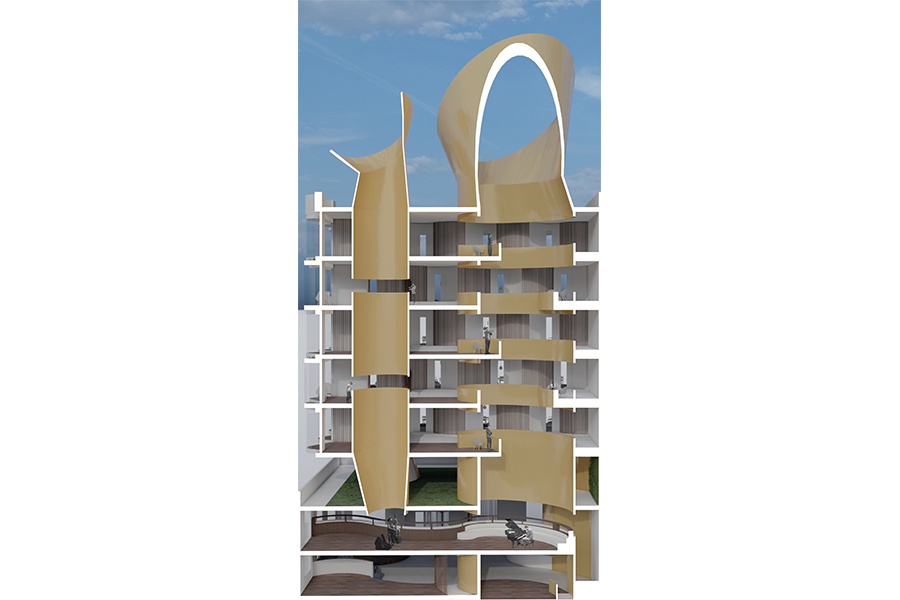 In this hotel, musicians are able to isolate while still playing and collaborating with their orchestra colleagues. "Two large brass [funnels] cut through the building, with openings on varied floors where musicians can join together to create in harmony or to debut their new solo composition," says Nestor. "These instruments then focus the music through, as well as out the building—so that it can be heard even by those passing on the street." A novel idea of the concept: Glass bubbles in guestrooms overlook the street while also large enough to fit a piano.
The Filmmakers House by Yangkai Lin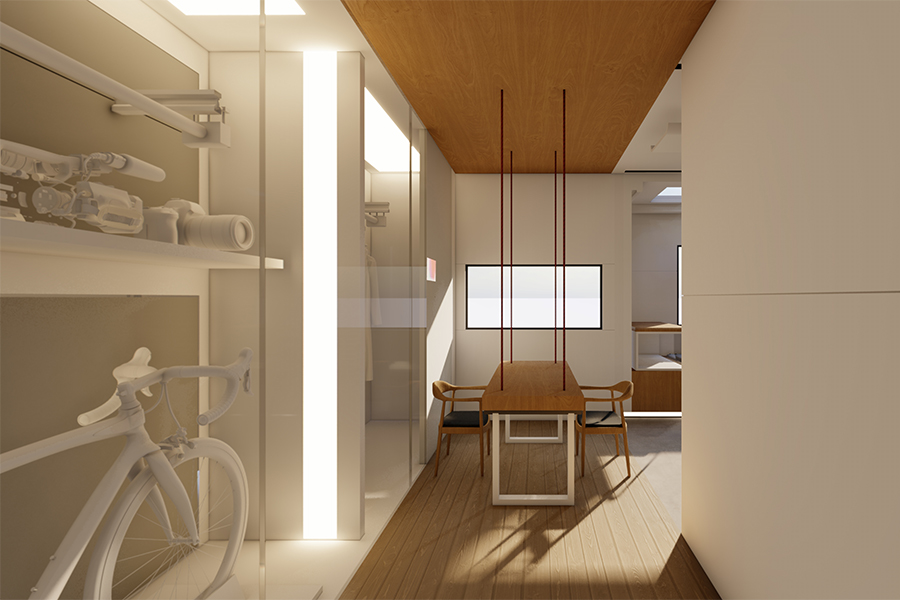 Designed with the film industry in mind, this concept encourages creators to continue working on their craft while in isolation. Guests receive any requested film equipment and tools—as well as food, laundry, and other essentials—straight to their chamber via a vertical conveyor closet. The ceiling light can double as a light table and the bedroom transforms into a projection room. Floating platforms within the structure allow for social distancing in groups. Once guests fulfill their two-week quarantine, the building provides them with access to various film studios for an additional two weeks.
The Bubble House by Yearin Park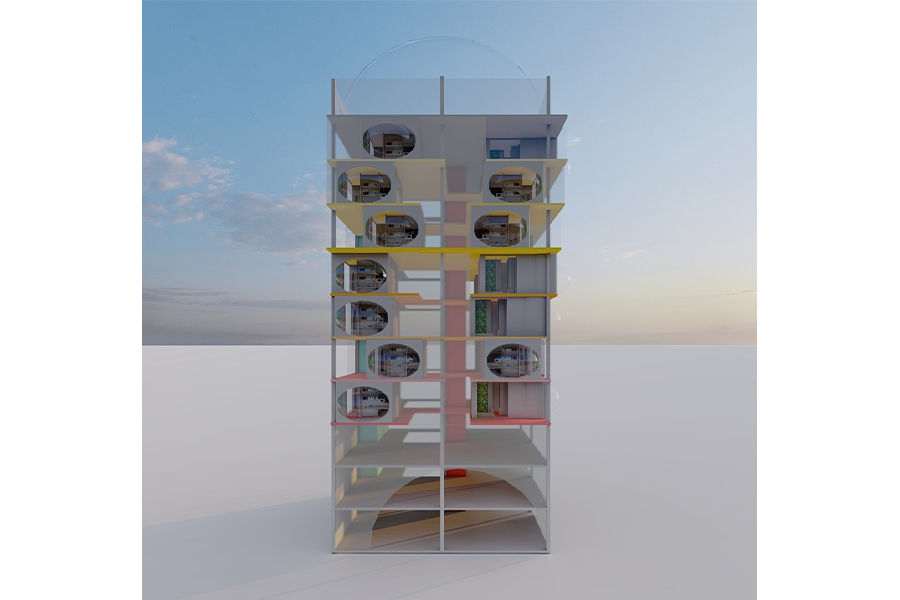 Yearin Park's 12-story hotel focuses on supporting those in need by treating mental health issues during the 14-day quarantine period. The main feature of the project are bubble windows installed within each room to combat feelings of isolation. The semi-circle shaped bubbles protrude from the building's exterior, allowing guests to relax while still connecting with the outside world. The central space of each guestroom is also large enough that guests who have been quarantining together can gather there. Further, Park imagined a bar, restaurant, gym, yoga studio, and rooftop garden and lounge for the concept.
House for Free Speech by Fuad Khazam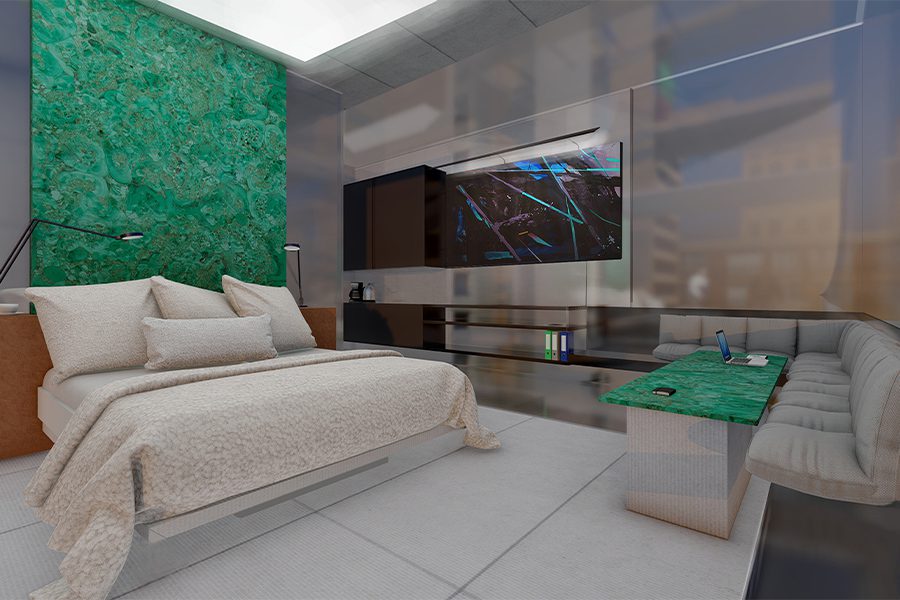 Khazam, who grew up in Syria, explores the notion of free speech with this concept. The building, made almost entirely of glass, avoids establishing distinct boundaries while also allowing for social distancing without the visual isolation. "The interwoven concrete slabs and glass break the norm of strict architectural rules as glass becomes the floor you walk on and concrete becomes a support for transparency instead of a limitation," explains Khazam. Further connecting with the overall theme, the use of concrete is symbolic of authoritarian regimes, while glass represents freedom of speech. Mini roof gardens are installed atop each of the 20 units, and the library features vertically moving capsules that deliver books to each of the building's levels.
More from HD:
2 Urban Planning Concepts Foster Biodiversity
Trends: COVID-19 Design Considerations
5 Scenic Road Trip Destinations in New York
The post 4 Student-Designed Quarantine Hotel Concepts appeared first on Hospitality Design.