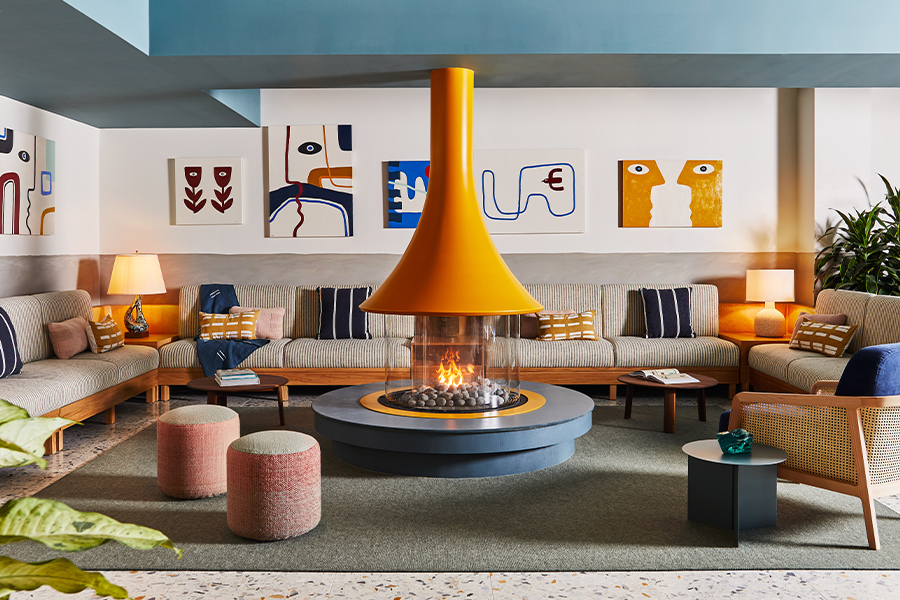 Old World elegance abounds in Newport, Rhode Island, but the Wayfinder, the shared vision of a group of local chefs, bartenders, artists, designers, and entrepreneurs, illuminates the mansion-lined city's edgier, more imaginative spirit.
A revamp of the Mainstay Hotel, the Wayfinder was developed by Dovetail + Co (led by Sydell Group alum Phil Hospod) and designed by New York-based studio Reunion Goods & Services as a friend's inviting beach house. "We wanted to conjure the feeling of the ocean while avoiding the cliché of the nautical look. Our vision was to transform a plain building into a cool coastal space as a nod to Newport's new creative class—a contemporary Newport with a thriving art and restaurant scene," explains Laura Flam, a principal at Reunion Goods & Services.
For example, there are more than 1,000 works of art from emerging Rhode Island artists on display throughout the hotel, including Sean Spellman's poolside mural and Jenny Brown's vintage postcard collages. Toiletries are courtesy of Newport's own Shore Soap Co. and the retail shop is curated by nearby womenswear boutique Bohemian Bias.
Although the 197 homey guestrooms—decked out with vintage finds like nightstands fashioned out of trunks sourced from local antique markets—are muted, the public spaces are decidedly bold. In the lobby, a mustard-hued circular fireplace commands attention and the terrazzo floor contrasts the blue plane of the ceiling. "The darkness adds intimacy to the space by compressing it to feel comfortable and residential in its proportions," Flam notes. "The neutrals stand back and let the saturated colors pop and remind you that you are in shared space."
Organically, the lobby flows into Nomi Park, the restaurant run by the family-owned Mission Group, like a living room morphing into a dining room. Nomi Park is bright, with stained-blue library chairs atop an orange, black, and white color-blocked rug paving the way to pink leopard upholstery, a teal-faced bar, and burnt orange leather banquettes that not only punctuate the airy space, says Reunion Goods & Services principal Carrie Dessertine, but capture New England's rocky coastline. "These are the colors of the ocean and the setting sun connecting at the horizon. The light floor and ceiling represent the pale sand and sky retreating."
This article originally appeared in HD's January 2021 issue.
The post The Wayfinder Hotel Brings Big Personality to Newport appeared first on Hospitality Design.