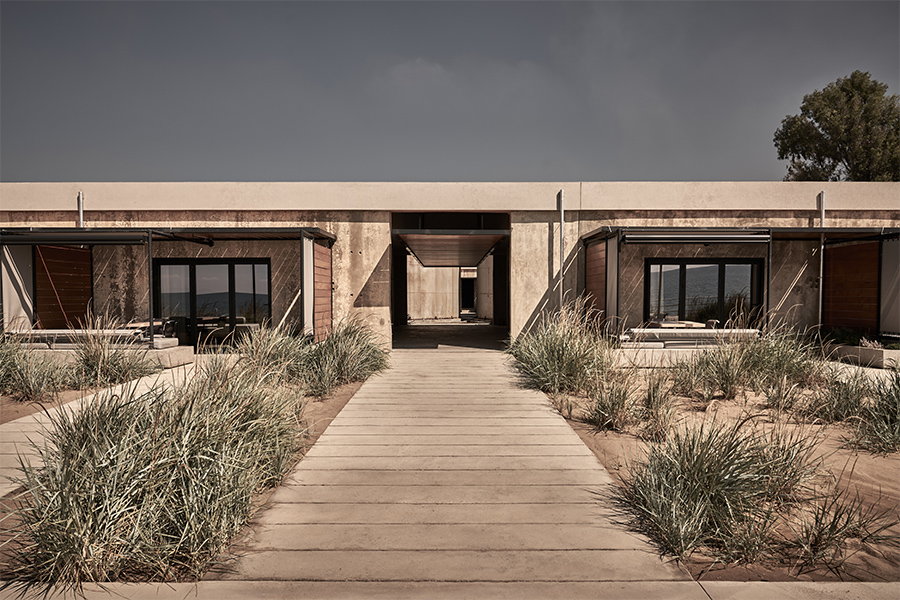 The original site of Dexamenes Seaside Hotel, a former winery that dates back to the liberation of Greece in 1830, was built on the sea so ships could be loaded with currant wine directly from the tanks. It had remained relatively untouched for about 90 years, until hotelier Nikos Karaflos reached out to architecture firm K-Studio, founded by brothers Konstantinos and Dimitris Karampatakis, to conduct a study about converting the tanks into hotel suites. "When I imagined what it would be like to sleep in the tanks and wake up in the morning to see the sea, I thought that a hotel should definitely be the next stop in the history of the place," recalls Karaflos.
Housed within the site's existing buildings, two concrete blocks of wine storage tanks became the 34 hotel rooms (there is also one villa on the property), where most of the existing features, such as manholes and pipes in the façade, were preserved. A minimalist palette of concrete, timber, and steel juxtapose textured glass and polished terrazzo, which add a light and airy vibe to the accommodations. Further, the space between the two blocks was transformed into a courtyard garden with a shallow pool.
Retaining the imposing steel drums that used to store wine was important to Karaflos, so portions of the steel were cut away to create doorways, while slabs of concrete serve as stepping stones leading into the tanks across the pool. "We use the silo tanks for private dining, wine tastings, massage and sound bath treatments, star gazing, art exhibitions, and more," says Karaflos. "All these uses are achieved through removable partitions, so the tanks stay as convertible as possible having no permanent equipment restricting their possibilities."
K-Studio also converted two original stone out buildings into a restaurant and a cultural center. Here, reclaimed bricks found inside the structures line the floors and terrace, and the pitched roofs were restructured with locally crafted ceramic tiles that blend with the original material palette. "Through design, we managed to resolve the issues with minimum and very discreet interventions," says Karaflos, "so the buildings remained relatively untouched and their raw beauty was retained and highlighted."
The post Dexamenes Seaside Hotel Pays Homage to its Grecian Roots appeared first on Hospitality Design.