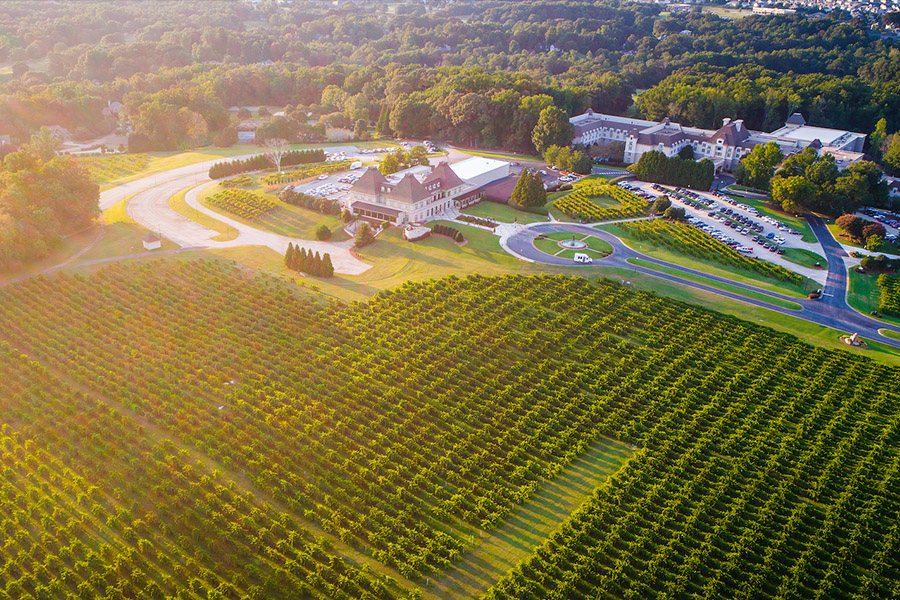 French style might not be the first thing one associates with the state of Georgia, but thanks to a $25 million renovation by Atlanta-based architecture and interior design firm BLUR Workshop, Château Élan Winery & Resort in Braselton has brought it top of mind. "It has a little throwback to the French [origins], but it had to also be Southern, hospitable, and elegant," says BLUR principal Foreman Rogers.
Originally opened in 1985, and inspired by a 16th-century French castle, the property had started to show its age when Rogers and his team began the project in 2017. They touched almost every part of Château Élan over the past three years, from new exterior stonework to landscaping installations.
One goal was to give the various areas of the complex—which has grown to include 45 holes of golf and a clubhouse, the winery and vineyard, four F&B outposts, 277 guestrooms, a spa, and a convention center—a more cohesive, intuitive, and stylish feel. "We're really good at taking large spaces, scaling them down, and dividing them in a way that gives purpose," says Rogers. That ethos is evident in the lobby, refreshed with raised ceilings, stone floors, an oversized custom fireplace, and a gold leaf painting of migrating birds by Atlanta-based artist Thomas Swanston. The space is a gathering spot for guests, with a café that also functions as a wine bar and boutique.
The most dramatic transformation took place in the atrium, home to the Versailles Restaurant. It's now anchored with an imposing 45-foot-long bar backed by a towering 30-foot-tall wood sculpture mimicking the site's topography. The center seating area, under a greenhouse-like mullioned canopy that evokes visions of the Musée d'Orsay in Paris, is now moveable to accommodate both diners and group attendees, and the custom glass chandelier, made up of more than 1,400 handblown pieces arranged to pay homage to the vineyard's rows outside, is a showstopper day and night.
While BLUR Workshop has already updated nearly every aspect of the 100,500-square-foot property, it has plans to continue working on new elements to further enhance the guest experience. "Our goal was to help them elevate the space and reach a new clientele," Rogers says.
For more information about the project's sources, click here.
This article originally appeared in HD's January 2021 issue.
The post Château Élan Gets a Posh Makeover Fit for the 21st Century appeared first on Hospitality Design.